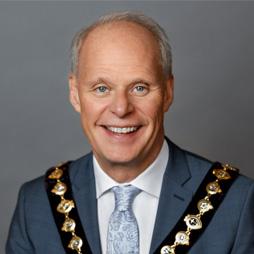 Elected in 2018 and re-elected in 2022, Mayor Dan Carter is serving his second term as Mayor of Oshawa. Before becoming Oshawa's Mayor, he served as a City and Regional Councillor. The Mayor is an ex-officio member of all City Standing Committees.
At the Region of Durham, he currently serves as a member of the Health and Social Services Committee and the Police Services Board.
Active in community development initiatives, Mayor Carter lends his time to many philanthropic endeavours and has a deep commitment to making a difference to those in need.
Mayor Carter takes his role as Mayor of Oshawa to heart and feels blessed that he has been given a second term to serve and help people in his community. He is committed to leading in a way that will bring out the best in all of us and be the light that brings hope, optimism, and pride to this great city.