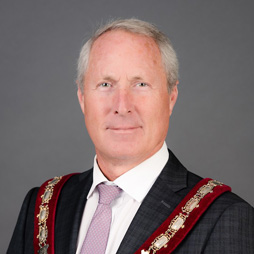 Shaun Collier was elected as the tenth Mayor of the Town of Ajax in 2018 and again in 2022.
Mayor Collier has lived in Ajax since 1969, and has sat on Council since 2003. He is a proud father, husband, Armed Forces veteran, Accountant and a Chartered Director.
His vision is to continue building Ajax into a dynamic, thriving and diverse community as we grow; a destination where people live, work and play. This means bringing a renewed focus on the value of clean streets and parks, attracting well-paying and sustainable local jobs, and our commitment to leadership in community safety and inclusion for all.
Mayor Collier is also a local champion for innovation, technology and relationship building. He sits on the Durham Region Police Service Board and the Planning and Economic Development Committee, is the Treasurer of the Great Lakes and St. Lawrence Cities Initiative Board of Directors (2022-2023), serves on the Board of Directors of PARA Rescue and Elexicon Corporation where he Chairs the Administration Committee and is an active member of the Ontario's Big City Mayor's (OBCM).