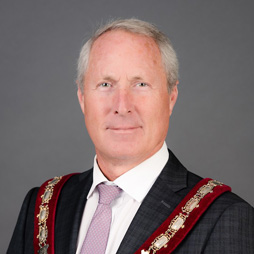 Shaun Collier – Mayor
Since his election as Mayor in 2018, Shaun Collier has worked to bring long-term social, and environmental sustainability to the Town of Ajax, while strengthening our economic position. Prior to becoming Mayor, Shaun served as the Ward 1 Councillor, and Regional Councillor representing Wards 1 and 2. 2023 marks his 20th anniversary of public service.
Under Mayor Collier's leadership, Ajax has become a champion of economic development by cutting red tape and innovating to deliver new housing and business opportunities faster. In his first term as Mayor, development related construction value in Ajax topped $1-billion dollars.
Continuing the Town's strong history of environmental stewardship, Mayor Collier has fought for growth within our urban boundaries and has been vocal against the development of the Carruthers Creek headwaters.
In 2019, Mayor Collier introduced the Ajax Mayor's Gala with the aim of addressing homelessness and supporting not-for-profit and community groups. Under his leadership, more than $700,000 have been invested into the community thanks to the success of the gala and the support of its sponsors.
Mayor Collier represents the voice and needs of Ajax on several committees. He is Chair of the Durham Regional Police Services Board, sits on the Durham Region Planning and Economic Development Committee, is the Treasurer of the Great Lakes and St. Lawrence Cities Initiative Board of Directors (2022-2023), serves on the Elexicon Corporation Board of Directors where he Chairs the Administration Committee, is an active member of Ontario's Big City Mayors (OBCM), and is the Past Chair of the Durham Region Transit Executive Committee.
Mayor Collier also served as Council Liaison to the Ajax Anti-Black Racism Task Force. The task force was set up to listen to local Black voices and initiate concrete actions to support the Black community and other racialized groups in Ajax.
Mayor Collier is also an Armed Forces Veteran, accountant, and a chartered director. He raised his two children in Ajax and is proud husband to Rose Collier.